Dr.Jaya Prakash Samala Ph.D.
CEO and Director
NSJPRAYOG LIFE SCIENCES PVT. LTD.
DOS Laboratory, CSIR-IICT,
Tarnaka,Telangana,India.
(+91) 70 93 20 64 22
B.Sc., M.Sc. (Organic Chemistry) Ph.D., CSIR-IICT, India
Post Doctoral Fellow, CSL, ICES, Singapore.
Dr. Jaya Prakash is an innovative and visionary scientist with expertise in library design employing enantioselective synthesis and natural product-based approaches to drug discovery. Dr. Prakash has more than 20 years of academic and industrial research experience in the field of Organic and Medicinal chemistry.
Prior to this, Dr. Prakash was in leading CRO Company Albany Molecular Research Inc (AMRI) at Singapore. At AMRI he worked on various Medicinal Chemistry Projects including FTE and PO based projects. He spent more than 9 years at AMRI and worked with multinational clients on various Medicinal Chemistry projects. Dr. Prakash also led the safety committee and chaired multiple years for AMRI Singapore site. Prior to joining AMRI, Dr. Jaya Prakash pursued postdoctoral research at Institute of Chemical and Engineering Sciences (ICES), Singapore, and there he worked on complex Spirocyclic skeletons in the area of total synthesis, where he transferred the process technology to the industry.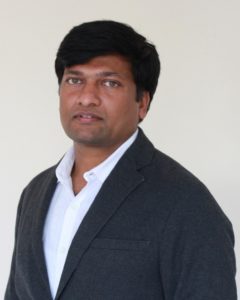 Earlier, Dr. Jaya Prakash pursued his Ph.D. in Organic Chemistry in 2004 from Indian Institute of Chemical Technology (IICT) Hyderabad. His Doctoral studies mainly focused on the synthesis of natural products, asymmetric synthesis, and the development of new methodologies. His noteworthy contributions in the total synthesis of architecturally diverse natural products are well reflected in the total synthesis of several natural products, which include anticancer and antibiotic molecules. He has 14 International publications including patents to his credit.